On Wednesday nights the renowned Los Alamos proprietor of flatbread creations – Full of Life Flatbread – is closed to the public.
On Nov. 20, however, the restaurant's owner/operator, chef Clark Staub, made an exception. Not only was he open, he handed his kitchen over to 16 children and their fearless leader chef Bethany Markee.
Markee, a small-framed firecracker known to many as "Chef B.," and her crew of apron-bedecked mini chefs-in-training, managed the bustling Bell Street dining room, which glowed with warmth and light from the wood-fired brick oven situated in the heart of the restaurant.
Her program is offered to more than five elementary schools throughout the Orcutt district, addressing the importance of healthy eating habits and kitchen safety.
Markee explained that given the popularity of the food arts, a fundraising component was necessary to continue to build out the fledgling program.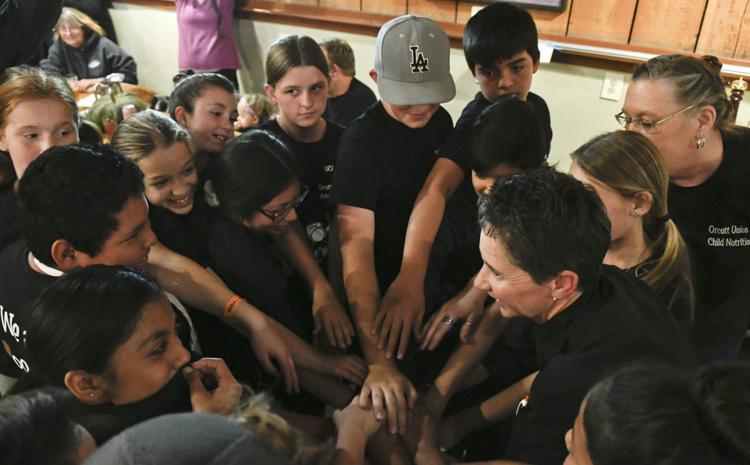 "My assistant(s) and I teach at one school site at a time," Markee said. "I travel to all the different school sites to teach the classes there. We have nice commercial kitchens at each school site, fortunately."
Restaurateur Staub, who could be seen calmly supporting all the cooks in the kitchen, said that a third year of fundraising was definitely in the books.
"Flatbread has been open 16 years, and our portable pizza oven with all the tiles, was done by Olga Reed Elementary students in 2006," he said. "Bethany came to me about this a couple of years ago. It's so much fun."
As he spoke, Markee could be heard shouting orders and directions, and in response receiving a resounding "Yes, chef!" from her diligent students.
"This loudmouth," Staub said, smiling and pointing at Markee, "used to work for me, and I have two grown kids, so anything we can do to support the community, all the better. What she's doing with these students is incredible. Bethany is a hoot to work with."
With the growing interest in the 6 to 8-week after school educational program, Markee explained that a lottery system was adopted for selecting students. In Los Alamos, 16 students comprised of Olga Reed Elementary School and Orcutt Academy Charter students were picked, some returning for a second time.
The young chefs circulated through the packed dining area, attending to waves of hungry diners comprised of doting family members, friends and school staff.
Returning culinary student William Woodside, 12, said it made him happy to see everyone at the event having a good time.
William's mother, Elizabeth Porter, explained that the diversity of skills required to be a chef is a good fit for her son.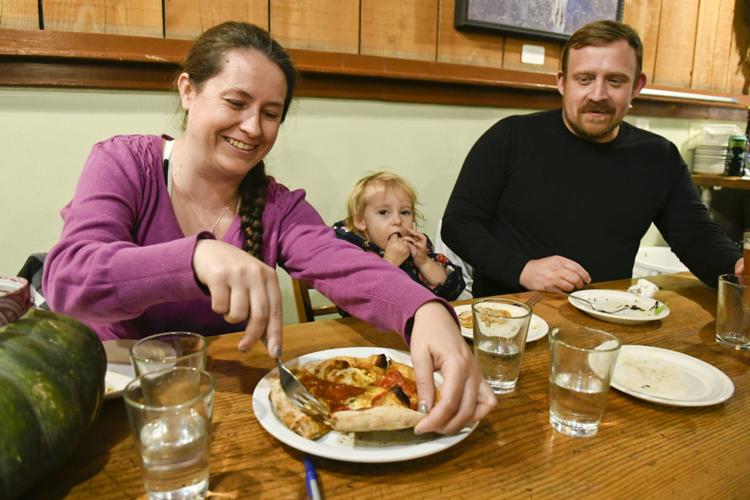 "We were really excited about this program for him," she said. "He doesn't do sports, so this is something great for him."
The team of young chefs shared in taking orders, filling water glasses, prepping handmade cheese and pepperoni pizzas and serving them piping hot: and all with a smile.
Cara Mia Shalhoob, 11, a new student to the program who was taking a quick moment to have her meal next to her mom, said she has learned important cutting techniques and useful information about how to keep her hands and workstation clean when working with food. But her favorite thing was all the fun.
"[Chef B] is super excited, and she's really funny. We laugh a lot," she said.
Proud mom Tracie Shalhoob, said that the whole experience has been "awesome" for her daughter.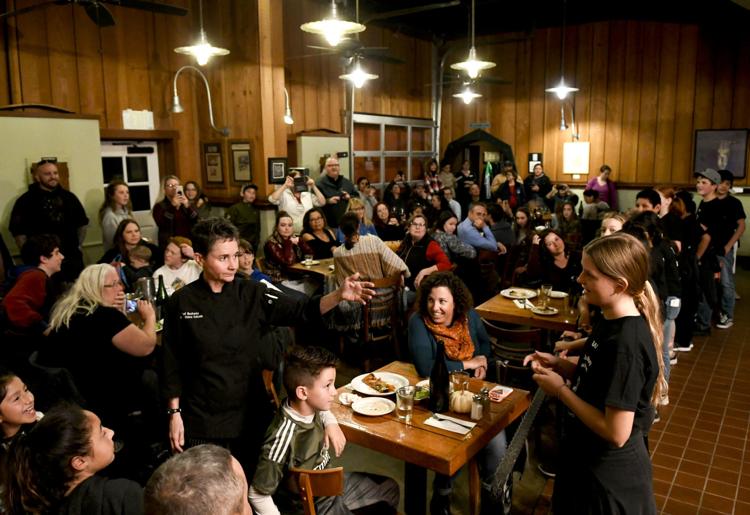 "I love that she has learned how to properly use tools in the kitchen," Shalhoob said, while enjoying her meal of flatbread pizza and organic, locally sourced green salad.
Olga Lucero, mother of 13-year-old, first-time culinary student, David, said she had not eaten at Flatbread before the event, and that the ambiance was beautiful.
"This was great, and delicious," she said, noting that although she doesn't exactly envision her son in the kitchen on a regular basis going forward, she knows he has enjoyed learning from the program — and eating well.
Joe Dana, principal of Olga Reed for the last nine years and Orcutt Academy Charter for 11, looked out into the sea of nearly 100 diners enjoying their meals and expressed his pride in the program — and Markee.
"I consider this one of the coolest school events I've ever been part of in all my career," Dana said. "I want to commend Bethany. She has more than enough on her plate feeding 5,000 kids, but she makes the time to teach culinary arts to kids. It's not just about learning to cook; it's also about learning to eat right."
Full of Life Flatbread donated 100% of the proceeds to the Orcutt Culinary Arts program.