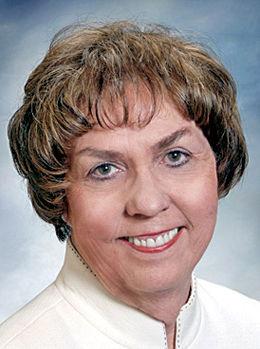 After 26 years of serving on the board of the Sequoia Healthcare District, Kathleen Kane announced last week she will retire in December, leaving a vacancy on the board of five that must be filled in the coming months.
First elected to the district board in 1992, Kane confirmed she will retire at her last board meeting Dec. 4 and said she felt the time had come for her to end her service to the district. She said she will miss the many professionals and organizations she has gotten to know during her tenure. Though Kane was on the board when the district oversaw Sequoia Hospital, it was eventually handed to the nonprofit now known as Dignity Health and, in 2007, it contributed some $75 million to construct a new facility while releasing its supervisory role by giving up seats on the hospital's governing board.
Kane counted the district's grant program and a partnership with the San Mateo-based nonprofit Samaritan House to establish a clinic offering health and dental care to uninsured and underinsured individuals as among the achievements she was most proud of in more than two decades on the board. She also looked to the expansion of health and wellness resources in schools as a major step forward for the district, the boundaries of which go as far north as portions of San Mateo and as far south as Redwood City.
"I think the district is vital to the health of our community," she said. "I think the programs and the grant programs that we put together have been just a terrific thing for the constituencies of the district and for the overall health of the district."
Sequoia Healthcare District CEO Pamela Kurtzman said because Kane's seat was up for election in 2020, district officials felt it made the most sense to appoint someone to the seat until the election is held next fall. She said they will have 60 days after Kane's last day to fill the vacancy, and noted officials plan to spread the word about the open seat widely to encourage candidates to step forward.
Because the district transitioned from at-large elections to zone-based elections in 2018, only candidates who step forward to fill Kane's seat and live in either Zone B, which includes parts of Atherton and Menlo Park, or Zone D, which includes parts of unincorporated North Fair Oaks and Redwood City, will have an opportunity to run for a four-year term on the board in 2020, noted Kurtzman. She added that any district resident can apply to fill the seat before the election, but those who do not live in the zones up for election in 2020 can only stay in the seat for the remainder of Kane's term.
Kurtzman said Kane's background in human resources and her institutional knowledge about the district have been invaluable, noting Kane was always willing to volunteer her time in support of her colleagues and new initiatives the district was exploring.
"She's always willing to sit on an ad hoc committee, to do extra tasks and to do strategic planning," she said. "She's always the first one to say, 'hey, I'll do that.'"
Board President Kim Griffin commended Kane for maintaining a focus on addressing the needs of the district's most vulnerable residents. She said she learned a lot from Kane, and was optimistic the district would find another person as enthusiastic about its work as Kane has been.
"I think she was a champion for the folks that are really struggling," she said. "She always kept an eye on people who were having challenges in the community."
Acknowledging many of the district's grant recipients have reported challenges with retaining staff, Griffin hoped the district could continue to support nonprofits and other agencies providing health care in the community as the region's high cost of living continues to rise. Though Griffin felt the district had been proactive in cautioning communities about the effects of youth vaping, she hoped officials could continue to increase support for mental health resources in schools under the district's Healthy Schools Initiative.
Jerry Shefren, vice president of the board, said Kane was one of the reasons why he decided to run for the board. He credited Kane with leading the initiative to open the clinic run by Samaritan House on Fifth Avenue in Redwood City, and noted she also served as a leader at the state level when she was chair of the Association of California Healthcare Districts.
"She has been a great leader who has done a number of very, very important things while on the board," he said.
Shefren looked to the district's three-year strategic planning process to be a priority in 2020 and said finding ways to ensure patients have access to health care in the face of federal changes will continue to be front and center for him. Because the district has yet to elect a board member from Zone D, which includes unincorporated San Mateo County and parts of Redwood City, Shefren looked forward to including new perspectives on the board in 2020.
Having been elected to the board in 2018, Aaron Nayfack also looked forward to the upcoming strategic planning process, which he expected would build on the district's nimble process for identifying and addressing emerging health trends. He voiced support for Sequoia Strong, a health resource directory aggregating information on programs for all ages, and hoped they could continue to strengthen it as a community benefit.
Nayfack agreed that Kane's welcoming presence on the board would be missed, and said her experience in the field has been extremely valuable to him as he has immersed himself in the board's work.
"I'm really honored to serve with her and I think she's left the health care district in a much stronger position for her service," he said.
For Arthur Faro, who serves as secretary/treasurer on the board, Kane's diligence in understanding issues, proactive approach and commitment to making decisions based on what she believes defined her tenure on the board.
"She's extremely loyal and also thinks ahead," he said. "She's got a strong code of ethics, a good sense of humor and she's fun to serve with."
Applications for the vacancy are due 5 p.m. Dec. 13 and consist of a resume, statement explaining an applicant's interest in the seat, acknowledgment of the district's conflict of interest policy and annual filing requirements. They should be submitted to board President Kim Griffin at 525 Veterans Blvd. in Redwood City. Visit seqhd.org/#Announcements for information on how to apply for the district's open board seat.