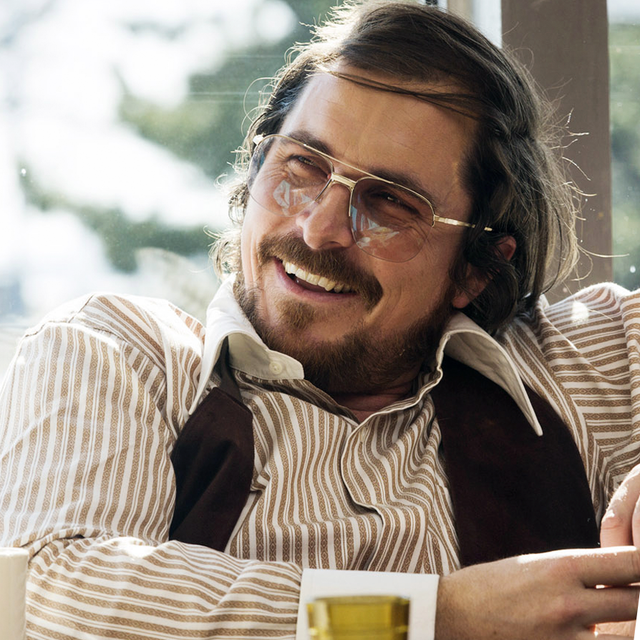 Sony/Paramount/Columbia
Christian Bale is a master at transformation: he's gained weight, lost weight, put on muscle, shaved his head, and even done special exercises to "thicken his neck" in order to physically fulfill the demands of his movie roles—no fat suits or half-assing it for this guy.
However, Bale recently revealed that those days may soon be behind him. "I've become a little bit more boring now, because I'm older and I feel like if I keep doing what I've done in the past I'm going to die. So, I'd prefer not to die," Bale told E! News.
In honor of Bale's most recent movie, Ford v Ferrari (which may not seem like it, but included yet another transformation), we've decided to compile a list of the actor's most shocking physical transformations.
Advertisement – Continue Reading Below
American Psycho
Bale was already pretty slim, but 2000's American Psycho saw him take on what he called one of the most restrictive diets of his career in order to play Patrick Bateman. He told Train Mag that "there were no cheat meals. It was all lean protein. No sugars, good fats and low carbs."
Bale also told The Guardian that his obsessive diet and decision to get his teeth capped were because he wanted to stay true to the character. "With Patrick Bateman, his physicality is much more important than with most characters. He deals totally in the superficial, and he's incredibly narcissistic," Bale explained.
The Machinist
To play the emaciated insomniac Trevor Reznik in 2004's The Machinist, Bale lost around 60 pounds in just four months, bringing his total weight down to 120 pounds at the start of filming. Bale reportedly stuck to a diet of "water, an apple, and one cup of coffee per day," to lose weight.
The film's producers also reportedly said that Bale wanted to actually lose more weight—the actor wanted to get down to 100 pounds, but they wouldn't let him because of health concerns.
Batman Begins
Bale's first turn as Batman came in 2005. While most actors put on some weight and muscle to play a superhero, Bale had the added pressure of coming off straight off of his massive weight loss for The Machinist, and he only had five months before shooting began.
He gained weight by eating pizza and ice cream. "I overdid it because I was enjoying gorging. I was ignoring advice about taking it slowly because my stomach had shrunk, and I should just go with soups…I was straight into pizza and ice-cream and eating five meals in a sitting," he explained to The Huffington Post. He also trained in the gym and lifted weights to sculpt himself into the Bruce Wayne we all know and love.
The Dark Knight
Bale reprised his role as the caped crusader in 2008, and while he told Collider there were a couple of new moves he had to train for, it was also a return to what he had already mastered.
"My whole thing was about having speed, strength, stamina and agility—being that lean would be counterproductive to some of those things—I want a bit more weight there. Batman relies on speed and strategy. Diet-wise I would eat smaller meals every two or three hours. Each meal I would aim for a balance of lean proteins, carbs and good, healthy fats," he told Train Mag.
The Fighter
2010 saw Bale drop weight for a role yet again. The actor lost 30 pounds to portray Dicky Eklund, a real-life boxer who struggled with drug addiction.
Bale explained that his weight loss for this role was mostly due to exercise, and not diet: "I was just running like crazy. I could just run for hours on end and I felt really healthy."
Bale's role in The Fighter would go on to win him awards including the Academy Award for Best Supporting Actor, the Golden Globe Award for Best Supporting Actor, and the SAG award for Outstanding Performance by a Male Actor in a Supporting Role.
The Dark Knight Rises
Bale's third and final turn as Batman was in 2012's The Dark Knight Rises, but since this film focused on an older Batman, the actor didn't have to hit the gym as hard as before.
"This is the first adversary [Bane] that can physically dominate Batman," Bale explained to MTV. "And we should recognize also in his somewhat weakened state that this is just not the same Batman that we've been accustomed to seeing before."
American Hustle
Bale gained over 40 pounds to play con artist Irving Rosenfeld. As he told People, he "ate lots of doughnuts, a whole lot of cheeseburgers and whatever I could get my hands on. I literally ate anything that came my way. I was about 185 and went up to 228." Bale also shaved his head for the role.
The 2013 movie was nominated for 10 academy awards, including a nod for Bale for Best Actor.
Exodus
2014 saw Bale go biblical in his role as Moses, but he only had about 6 months to drop the weight he gained for American Hustle. According to Health Fitness Revolution, Bale's fitness regimen was made up of cardio like swimming and running, and a three-day power weightlifting routine.
Vice
Another year, another role that our dear Mr. Bale has to gain weight for. To play former VP Dick Cheney in 2018, Bale gained 40 pounds, "ate a lot of pies," shaved his head, and bleached his eyebrows. Reportedly, he also did some "specific exercises" to thicken his neck, which is simultaneously inspiring and horrifying.
Ford v Ferrari
In order to play British race car driver Ken Miles, Bale had to lose the weight he gained for Vice. However, he ended up losing even more weight because, as he explained to Variety, "I had to get in the car. I could not bloody…–these things are not made for comfort, these cars. They're tight. So, I couldn't bloody get in them."
Bale's co-star Matt Damon was amazed by Bale's 70-pound weight loss, but when Damon asked him how he did it, he got a very succinct answer: "He just looked at me and said 'I didn't eat.' That guy is cut from a different cloth."
Advertisement – Continue Reading Below